Online Community
Error: The URL provided does not contain data in the expected format.
Infiniti G35 Sedan Main Page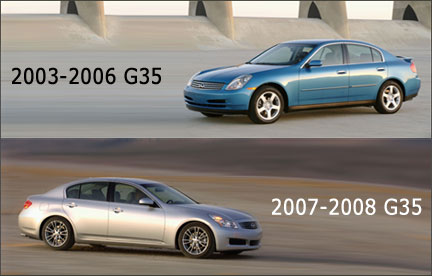 Originally released in 2002 as a 2003 model the Infiniti G35 Sedan was officially retired following the 2008 season with the release of the Infiniti G37. The 2003-2006 model years featured the VQ35DE, a mainstay with Nissan and Infiniti, with horsepower ranging from 260hp when first released and ending with 298hp via a "rev-up" edition of the same motor. In 2007 a fresh body design was released featuring a further engineered 3.5L V6, the 306hp VQ35HR.

Comparing the 2006 BMW 330i to the 2007 Infiniti G35x

In 2008, Infiniti went BMW hunting with the new 2008 G37 coupe. In a highly argued comparison, Motor Trend magazine ranked the G37 coupe over the 2007 BMW 335i and concluded.....